So you know those plans to get caught up on the blog...well as is obviously apparent, that didn't happen. So instead enjoy another 5 on Friday from this group of lovely ladies & some more high quality phone pics!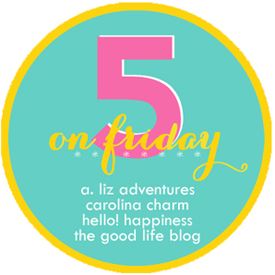 1. Hubby & I had a date afternoon last weekend and headed to a local country club for a professional golf tourney. The Web.Com tour was in town so we spent the afternoon walking the golf course, watching a little golf, eating some yummy food, and just overall enjoying ourselves. And let me just say, golf tournaments are the strangest thing...there are SO many people there, but yet it is SO quiet! ha!
2. Elyse is LOVING her Cozy Coupe...however, she can't fully pedal it forward at this time. She just hasn't developed the proper Fred Flinstone technique to get it moving...so instead she pedals backwards, and sometimes gets a little stuck!
3. My parents have a chocolate lab who loves to fish. My grandparents' have a pond stocked with catfish and perch and bluegill...and Dallas loves to stand under the dock and every once in awhile he will duck his head under the water as if he was bobbing for apples. Well...on Tuesday night he was successful and I was there to capture it on film. He's been "fishing" for about 4-5 years and has only been successful about 4-5 times--but hey, who's counting?!?
4. Elyse came down with a virus on Tuesday morning that has resulted in a high fever, congestion, and LOTS of cuddles. Seriously, this girl practically slept for 24 hours starting on Tuesday afternoon. Thinking it was a virus, we just held off on taking her to the doctor, but we finally decided we better take her in just to make sure...and guess what she has!?!? A VIRUS!!! Which we can do nothing about except let it ride...which means this pitiful face is going to get WHATEVER she wants for the next few days.
5. Elyse also needed an area where she could color/eat/hold tea parties, etc. so Hubby & I broke down and bought her a belated half-birthday present (only 2 months late.) Her very own table & chairs. Since she's been sick she hasn't even seen it, but I just know she's going to love it. I'm picturing lots of time spent sitting in these chairs!
Happy Friday everyone! Head on over to
April's
blog and link up with some other fabulous ladies...it seems like this is the one thing that everyone is doing these days!